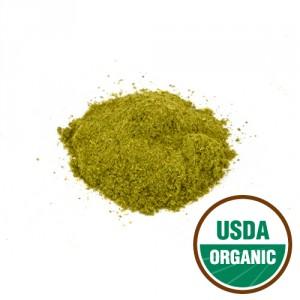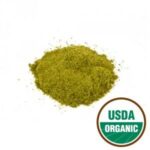 Description
Additional information
Reviews (0)
Description
Moringa Leaf Powder Organic – 4oz
Botanical Name: Moringa oleifera
Origin: India
Moringa is a plant that is native to the sub-Himalayan areas of India, Pakistan, Bangladesh, and Afghanistan. It is also grown in the tropics. The leaves, bark, flowers, fruit, seeds, and root are used to make medicine.
Oil from moringa seeds is used in foods, perfume, and hair care products, and as a machine lubricant.
Moringa is an important food source in some parts of the world. The immature green pods (drumsticks) are prepared similarly to green beans, while the seeds are removed from more mature pods and cooked like peas or roasted like nuts. The leaves are cooked and used like spinach, and they are also dried and powdered for use as a condiment.
The seed cake remaining after oil extraction is used as a fertilizer and also to purify well water and to remove salt from seawater.
How does it work?
Moringa contains proteins, vitamins, and minerals.
No claims are made to comply with FDA regulations.
Ingredients: Moringa oleifera